Conch Vacations with/ Boats presents
The Blue Lagoon!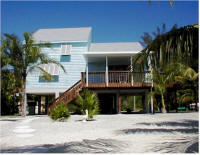 Here is a view from the Back of the Blue Lagoon. You can see the covered porch and the French doors that allow easy access to it. There are also doors across the other side of a porch that runs around most of the right side of the house.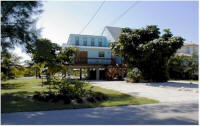 This is the street side of the Blue Lagoon, it is located in a great residential neighborhood, but the water is the best part.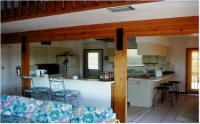 This is the large open area of the kitchen, you can also see the walkway that goes across the cathedral ceilings that give the home a nice open feeling.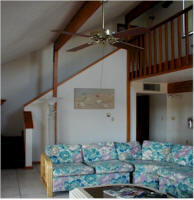 This is a picture of the stairway up to the master bedroom suite, and large bathroom that make up the upstairs of the home.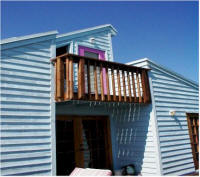 The small balcony off of the top floor is a neat little place to hang out and catch a view.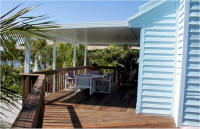 This is a small breakfast nook that is off of the back of the home, it is covered to offer some shade from the strong keys sunshine. Don't forget the sunscreen.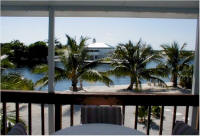 Here is a shot of the view from the home to the lagoon, which is blocked by the palm trees for a private feeling on the back porch. This is a nice quiet location.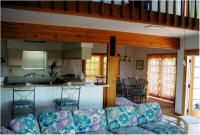 This is the dining area, and shows the French doors that exit off of the side of the house onto the porch.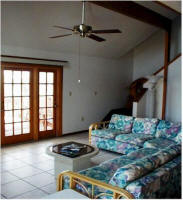 Another picture of the Living Room, and stairs up to the master.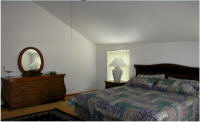 Here is the master bedroom. it is the entire upstairs and includes a large walk in closet, and very large bathroom.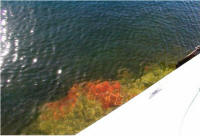 The water in the Lagoon is beautiful and filled with fish, great for swimming or small fishing. Here is one of the colorful sponges right off of the dock. Remember, if you need a boat to increase the enjoyment of your stay, we will have one delivered right to your dock, at a low price, low hassle guaranteed.

1500/wk in season for up to 6 people. Pets allowed with a 75$ non-refundable fee. Some off season discounts are available. For the ultimate family vacation call Adam - a Florida Real Estate Salesperson at 305-743-8877 or email me at conchrealty@aol.com

Copyright ©2014 Florida Keys Vacation Rentals